Officer Rights Cards
Do your members have the basic information they need at their fingertips when they are involved in an internal investigation or other critical incident? They should and they can!
Cline and Associates provides the Officer Rights Cards to all public safety labor organizations in the State of Washington.
These are available on a complimentary basis, simply upon request.
These cards are pocket-size, double-sided cards that provides critical, bullet point information concerning officer rights in discipline, lethal force, and fitness for duty situations.
To obtain free cards for your members, please contact us by e-mail at info@clinelawfirm.com or by telephone at 206-838-8770.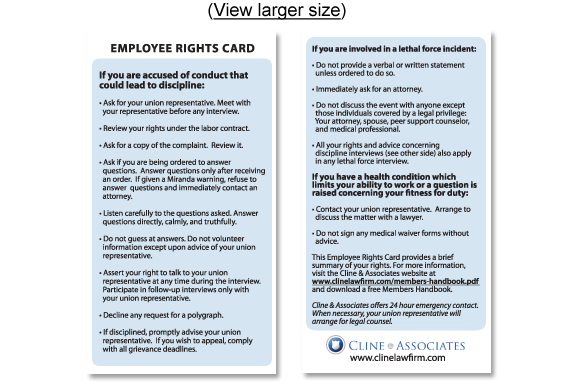 We also provide a condensed (usually about one hour) training for rank-and-file members on the information contained on these cards.
For your members to have even more detailed information concerning their rights, follow this link to our members handbook.